What is SharePoint?
SharePoint Online, included with Office 365, allows students, faculty, and staff to create collaborative Web sites that can be used to share files, assign tasks, start blogs, build workflows, and more. Want to learn more? Get started with SharePoint by Microsoft.
---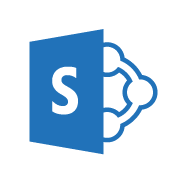 SharePoint features
SharePoint Online is a cloud-based service. The features of SharePoint is to:
Help organizations share and collaborate with colleagues, partners, and customers.

Access internal sites, documents, and other information from anywhere—at the office, at home, or from a mobile device.

Allow collaboration with external users, such as vendors or customers.

A scalable solution, as the size of your SharePoint Online setup is a big as it need to be and grows as you do.
If you have any questions regarding SharePoint Online, you can email This email address is being protected from spambots. You need JavaScript enabled to view it..